VIETRI SUL MARE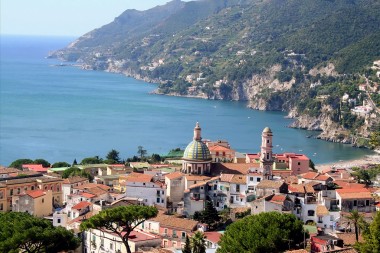 The 16th century dome of the San Giovanni Battista church rises above the town. The dome is decorated with hundreds of fish-shaped majolica scandole tiles in three colours, yellow, green, and azure.
Vietri is the capital of ceramics, with dozens of workshops and studios, including the impressive Ceramica Solimene, designed by the architect Paolo Soleri and inspired by New York's Guggenheim Museum. This is one of southern Italy's oldest and most prestigious ceramics workshops. The facade is entirely covered in cylindrical tubular terracotta in brick-red and green.
The craft of ceramics dates back to ancient times, and has been perfected over the centuries to today's manufacturing of objects that are works of art, appreciated as such all over the world. .
The ceramics museum exhibits work by the most famous ceramists, including Dolker, Kowalisk, and Hannasch.
Lookout towers survey the beaches and the coast, and they are joined in their task by the "two brothers", two large rock formations, similar to Capri's famous Faraglioni stacks.
Visit the Santa Margherita Di Antiochia church in the nearby village of Albori to admire its splendid frescoes. The floor of the Madonna Dell'Arco church in the village of Raito is paved with precious Majolica tiles.