THE ZIRO TOWER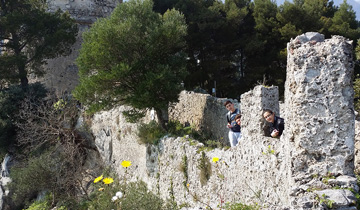 The Tower is situated halfway between Amalfi and Ravello, a strategic position for keeping a lookout for approaching Saracens. This is the site of one of the bloodiest episodes: according to the legend, in the early 16th century Giovanna of Aragon was locked in the tower. She was guilty of having fallen in love with her servant after the death of her husband, Alfonso Piccolomini. The tower is famous for its Amazing Belvedere overlooking the whole gulf.
Minimum 1 maximum 8/10 participants
Duration: 2 hours and a half – departure from Pontone – Scala
Difficulty: medium – Km 4,7
When: every day – reservation is compulsory at least 24hours in advance
The walk can be matched with:
paper trail (The Iron valley) from Pontone to Amalfi, light lunch at a local farm before Amalfi and escorted tour in the village.
On demand:
lunch box
private transfer
Trekking clothes and mosquito spray are recommended