THE JEWELLERY WORKSHOP AND THE ART OF GOLD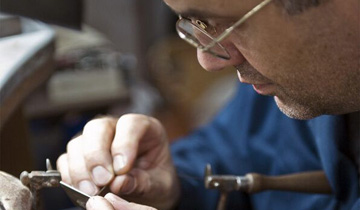 In the heart of Eboli, an exclusive tour into Rosmundo Giarrella's lab, Master of Gold Art, elected the official represent member of the Regione Campania in the most important jewels and craft fairs in the world.
Rosmundo is the first who has created the process of "Nido D'Ape Figurativo (figurative Wasp Nest).
His pieces, unique and exquisite, celebrate blissful landscapes, legends and important historical events. First among everything, Te Deum, described by The Prince Ranieri III an excellent example of the Gold jeweller. The piece remember the path of the Grimaldi's dinasty. On the back, the family emblem is represented in which more than 700 rubies are setted.
Unique exemplar, the Parsifal, an elaborate interpretation of the Wagner's Opera, which let feel the deep bind of literary, philosophical and religious elements part of the composition.
Another example, Il Girasole (the Sunflower), a stem made of diamonds dedicated to the hamlet of Ravello, placed between sky and sea, realized for the 50° edition of the Ravello music festival.
The exclusive tour introduce the guests inside the Master's lab where a Gold processing techniques class will explain together with all the historical background lined to the pieces mentioned above. Round Trip private transfer included.
2 participant only
Duration: half day
Welcome buffet included