THE IRON VALLEY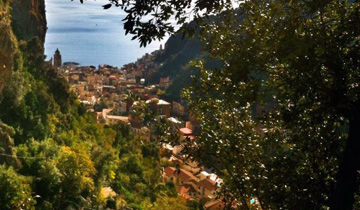 This path leads down from the Lattari Mountains towards Amalfi, through forests of ferns and past streams and natural waterfalls.
It takes its name from the discovery of the remains of medieval ironworks. The area is also known as the Valley of the Mills, from the watermills that were used to manufacture Amalfi paper. The area is home to a Nature Reserve where the Woodwardia radicans fern still grows, a fern dating back to the last ice age.
Minimum 1 maximum 8/10 participants
Duration: 4 hours – departure from Pontone village
Difficulty: easy – Km 6
When: every day – reservation is compulsory at least 24 hours in advance
The walk can be matched with:
light lunch in a farm at the end of the path or inside an amazing lemon garden placed in Amalfi
escorted tour in Amalfi and stop in the most popular local shops and at the paper museum
On demand:
lunch box
private transfer
Trekking clothes and mosquito spray are recommended.