THE DESCENT TO HELL: PHLEGRAEAN FIELDS AND SOLFATARA AREA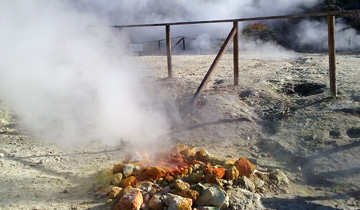 The Solfatara crater at Pozzuoli is part of the Phlegraean Fields volcanic area. The 33 hectares that make up the Fields, located north of Naples, include around 40 volcanoes.
The area boasts historical gems such as the Acropolis of Cuma and the Baths of Baia.
The trip winds along a disquieting path between fumaroles and mud volcanoes, including the Fangaia, the Bocca Grande ("Big Mouth", the main fumarole), a mineral water well, and the "old stoves" natural saunas.
The trip continues to Lake Avernus and Pozzuoli old town, situated inside a 4,000-year old volcanic crater. Ancient Greek and Roman mythology held that this was the portal to hell. Private Transfer included.
Minimum 1 maximum 8/10 participants
duration: full day
When: every day – reservation is compulsory at least 72 hours in advance