Taste&Toast, grocery tour and cooking class – brand new 2020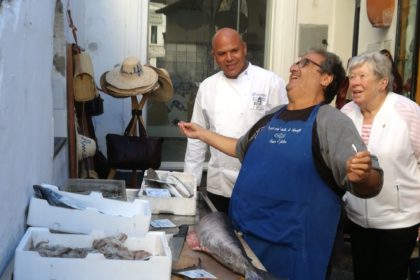 It's a unique and fun experience that will immerse you in the local traditions and specialties.
Discover the typical Amalfi alleyways while strolling with a local, pop into the food stores along the narrow streets to pick up what you need for the lunch/dinner, visit the bakery, admire the colourful greengrocer's, get to the fishmonger's for the daily catch and choose the fish you're eager to cook and taste.
Once the shopping is over, you'll get to the restaurant on a family-run property located just few kilometers from Amalfi. Daniele, the owner and the chef, will open the doors of his totally organic orchard and his lemon grove in order to introduce you to the "Sfusato amalfitano", the yellow gold of the Divine Coast.
And then the magic will take place… Daniele will involve you into the mistery of local cooking! A glass of an excellent local falanghina in your hands, scialatiello with fresh tomato, a fillet of fresh fish with lemon sauce, the lemon cake and a taste of delicious handmade limoncello…
Would you wish more?
Duration: half day
Private transfer on request
Recommended: comfortable clothing, sports shoes.