PRAIANO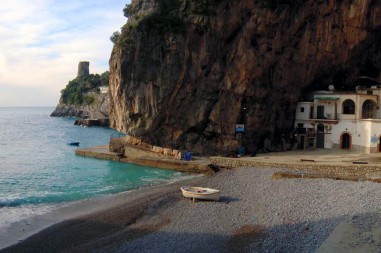 This small fishing village is situated on the ridge where mount Sant'Angelo a Tre Pizzi leads down to Capo Sottile. It is distinguished by its churches, with their majolica tile decorations, and the scattering of houses cascading down to the sea.
The small Marina Di Praia beach is a highlight. A path cuts through the rock leading from the beach to one of the most beautiful nightclubs in the world, the Africana, in a natural grotto by the sea, a favourite spot for local nightlife.
Visit the San Luca Evangelista church, which houses a relic of the saint and 16th century paintings, and the Di San Gerardo church, an ancient church that was restored in 1602 and decorated with multi-coloured tiles, with its bell tower and majolica tiled dome.