POSITANO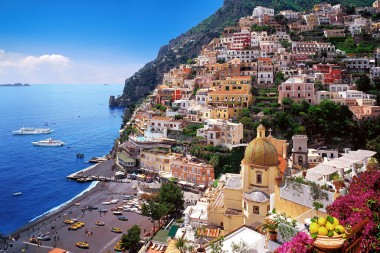 Founded by the Greeks and inhabited by the Romans, Positano followed the destiny of the Amalfi Maritime Republic. It is a favoured destination for actors and artists, from Zeffirelli to Nureyef (who owned the Li Galli islands situated in front of the town), and from De Sica to Sofia Loren.
In the 1960s Positano fashion was all the rage throughout Italy and beyond. Tailors workshops set about transforming traditional fabrics into beach robes, sarongs, and beach dresses, leading to the creation of the successful local fashion industry.
Visit the Madre church with its beautiful Byzantine painting depicting the Madonna and Child.
Don't miss the nature trails to Montepertuso and Nocelle, and the Sentiero Degli Dei (Path of the Gods), leading to the town of Agerola in a succession of breath-taking panoramas.