CETARA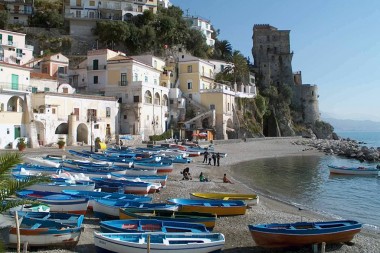 The village derives its name from cetarius, or tuna. It is home to the last active tuna fishing fleet on the coast. The catch is processed in local family-run artisan workshops. This is a great town for gourmands, with wonderful restaurants. The local speciality, the very particular colatura anchovy sauce, was invented by chance by local monks, and bears the Slow Food designation, recognised by the Ministry of Agriculture. This amber liquid is a by-product of the anchovy drying process, and is used in all the quality restaurants.
Explore the town by following the road down towards the beach, and marvel at the wonderful arabesque town layout. Saracen pirates settled here for almost a century.
Grandonetto Ausilio Di Cava, a fisherman who brought prince Frederick, the second son of King Ferdinand I of Aragon, safely from Salerno to Naples in 1845, thus escaping the Conspiracy of the Barons, is buried in the San Pietro Apostolo church (988 AD).