The magic "JoséFjord" – brand new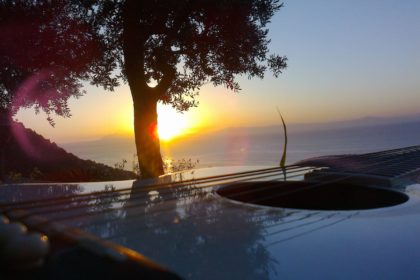 On the slopes of the Furore Fjord, one of the most enchanting views of the Amalfi Coast – place of citrus groves, olive groves and vineyards, we find the "Joséfjord" property. Set on precipices overlooking the sea, among lush terraces of vegetables in the shade of the carob leaves, the building  boasts a Christian chapel from the 13th century dedicated to Saint Joseph. The guests, greeted by the owner and curator, will be guided in the vegetable garden (biological "extreme"), collecting with his own hands all that the season will allow: zucchini, eggplant, tomatoes, "friggitielli", peppers and "papacelle" and still fresh eggs from the chicken coop or fresh milk from the sheepfold and they will taste the products [the preserves, the distillates] made at home; All this is then seasoned with the "FiordOlivo" Evo Bio olive oil extracted from the estate's olive grove, sipping the "FiorDivino", also from the estate's vine. After having refreshed the body, guests can relax the mind around the pool and solarium area, or taking part in the Yoga or Painting classes, or just enjoying the wonder of the view while tasting some iced limoncello.
 During the day it is possible to experience:
Private yoga/pilates classes
Escorted walk to the natural Fjord
Private events
Private chef and cooking class
Half day boat tour along the coast early in the morning or at sunset time.