Naples, vertical walking tour – brand new 2019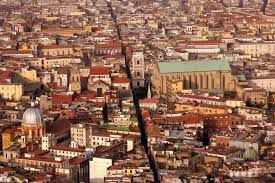 There is no city in Italy and in Europe more rich and mysterious than Naples for the fascinating and unbelievable stories that are told. The origins of the city of Naples are firmly rooted in the myth of the Siren Parthenope. The story begins on the island of Megaride where the original nucleus of the city called Parthenope originated. According to the ancient sources, this small settlement lay near the tomb of the young siren who had lived in the seas around the Sorrento peninsula. Legend says that Parthenope, devastated at her inability to make Ulysses fall in love with her, was washed up on Megaride. The tour starts at Castel Sant'Elmo, the highest point in Naples, that is a medieval castle and is situated on the top of a hill in Vomero quarter. Once we reach the castel's terrace, we'll admire a breathtaking view over the Gulf of Naples and its main attractions. We'll get the funicular to reach Montesanto Square and then we'll head for Dante Square. While strolling through Via Dei Tribunali you'll be surprised by Napoletan liveliness and numerous artisan shops. You won't, obviously, miss visiting San Gregorio Armeno, one of the most well-known streets in Naples, it's famous for hand-made Nativity Scenes.The last stop-over is San Severo Chapel, among various masterpieces you'll admire the statue of Veiled Christ.
Free lunch, our guides will suggest the best places for pizza, fried pizza, coffee and the delicious sfogliatella.
Minimum 2 maximum 12 participants
Duration: full day – from 10.00 am to 6.00 pm
When: every day